Profile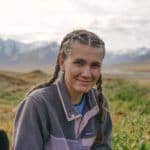 Amelia Grose
About Me:

Hi! I'm a PhD student at Michigan State University and I'm from Wisconsin🐄! I spend my summers studying rivers in Alaska. I have 2 pet rats🐀 and I love hiking, skiing, and crafting!

My Work:

I'm an environmental sciences PhD student studying Arctic rivers affected by climate change in Alaska!🏔

My Typical Day:

In the summer, I live at a small station with about 80 other people, it's a 2 hour drive south of the Arctic Ocean! I wake up at 7 am, pack my lunch from the dining hall and get in a helicopter! I spend the day flying to different places to collect water, then I fly back to our lab and do some lab work until dinner time at 6 pm. Then, we come back to lab and continue with our lab work while watching movies. I go back to my room to sleep around 11 pm. It's a busy day, but a lot of fun being outside with friends!

What I'd do with the prize money:

I would use it to create an exhibit for our local public library to teach students about water and the Arctic! The exhibit would involve books, displays, and activities. We would have small prizes, like stickers, for students who participated in an activity or read one of the books.

Work History

Education:

University of Notre Dame, IN

Michigan State University, MI

Qualifications:

B.S. Environmental Sciences

Work History:

College Tutor for Introduction to Biological Sciences

Teaching Assistant for Aquatic Insects, General Ecology Lab, and Biostatistics

Current Job:

Employer:

Michigan State University

My Interview

How would you describe yourself in 3 words?

extrovert, creative, caring

What or who inspired you to follow your career?

I have had a lot of amazing role models in stream ecology, like my advisor in college.

What was your favorite subject at school?

Math

What did you want to be after you left school?

I'm still in school!

Were you ever in trouble at school?

I once got detention in 6th grade for not taking 3 bites of every food I had for lunch.

If you weren't doing this job, what would you choose instead?

I would be a park ranger at Glacier National Park!

Who is your favorite singer or band?

Adele, Elton John

What's your favorite food?

Potatoes

What is the most fun thing you've done?

I studied abroad in Australia and the Galápagos Islands!
---
---
---
---