Profile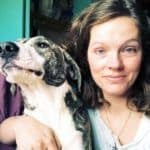 Leah Sutton
About Me:

I work and live with my partner and our two sons, 11 and 15, in Pueblo, CO. We have three big dogs and a almost 6 month old puppy. I enjoy reading, hiking and being outside working in the yard.

Read more

I am from Oklahoma and relocated to Colorado almost 4 years ago to be closer to family. I love animals, especially dogs horses and burros. In addition to our two boys we have three four year old littermates that we rescued from the shelter in Oklahoma before we moved. My partner had a 21 year old dog that passed away last year so to celebrate his memory and help heal broken hearts we got a new puppy in October. I love reading fiction when I have time as well as doing anything outside including snow skiing which is plentiful here in Colorado. I also enjoy gardening, cooking and dream of one day having enough land to rescue rounded-up wild horses and burros.

My Work:

My background is in chemical engineering. I work for in a commercial airplane brake manufacturing facility on the facilities engineering team. We help keep the equipment operating reliably and safely throughout the plant. I am also working on a masters in Systems Engineering

Read more

I attended the University of Tulsa graduating with a BS in Chemical Engineering in 2010. Following graduation I worked for a small original equipment manufacturer or industrial process heating equipment for about eight years managing small to large projects worldwide. In 2018 my family and I decided we needed a change of scenery so I begin a job search. I accepted a facilities, basically project, engineering position with a large aerospace equipment manufacturer. The facility I work at makes carbon brakes for commercial aircraft. My role is to manage projects or various sizes for the facility as well as ensure existing equipment/infrastructure is operating well and safely. One project I am currently leading is an effort to reduce our site's greenhouse gas emissions as part of corporate goals as well as state enforced regulations. I am passionate about sustainability in my personal life and in business so this is a very exciting project for me! Part of my role is serving as the Process Safety Management (PSM) coordinator for the site. PSM is a requirement  of OSHA for sites that store quantities of various hazardous substances. In addition to my work I am working toward a masters in Systems Engineering at Johns Hopkins University (Online program).

My Typical Day:

Most days I am behind a computer the majority of the time but I also work in a manufacturing facility so interacting with the operators and understanding their processes are key.

Read more

Besides taking my sons to and picking up from school each day can be different! Many days I am sitting behind a computer 90% of the day developing designs and drawings for in progress or potential future projects, tracking open safety items, updating site documents etc.  Some days I am running around the site helping to put out fires or gather data. Most days start with checking emails if no emergencies are in progress. Any pressing e-mails/voice messages will be handled via customer/vendor/contractor contact. Then I check my calendar to see what, if any, meetings or other events I have scheduled being sure to prep accordingly for each beforehand. After that I start working my way through my everlasting to-do list that I update daily. The facilities team has a stand-up meeting every morning to discuss what is going on that day/week and any turnbacks (issues) to track. Generally I will do at least one physical site walk a day depending on the projects I am currently leading.

What I'd do with the prize money:

I did not realize there was prize money! I would donate to our communities public school STEM program.

Work History

Education:

University of Missouri Rolla pursuing BS in Chemical Egineerin g(04′-05′)

University of Missouri Kansas City pursuing  BS in Chemistry for pre-pharmacy (06′-07′)

University of Tulsa, BS Chemical Engineering  2010

Johns Hopkins University, MSE Systems Engineering (expected 2023)

Qualifications:

Booker T. Washington High School, graduated 2004, 4.2 GPA

Full ride academic scholarship to UM Rolla

University of Tulsa Graduated with BS in Chemical Engineering with Honors, 3.6 overall GPA

Active member, including leadership roles at various times, of Society of Women Engineers (SWE) since ~2008

Lead local chapter of Citizens Climate Lobby group in Tulsa from 2016 to 2018

Member of International Counsel of Systems Engineers (INCOSE) since 2021 and membership director of the local front range chapter in colorado as well as communications chair for an international configuration management working group

Working toward Masters in Systems Engineering through Johns Hopkins University

Work History:

Age 16 – 17 Hostess at PF Changs and Local French Restaurant

Age 19 – Cleaned office building after school

Age 20 – assistant at local YWCA after-school STEM program for girls

Age 23 – Project Management Engineer for G.C. Broach in Tulsa , OK

Age 32 – Project Engineer in Facilities Group for Collins Aerospace

Current Job:

Project Engineer in the Facilities Group of a commercial aircraft carbon brake manufacturing facility

Employer:

My Interview

How would you describe yourself in 3 words?

Analytical, Curious, Thinker

What's the best thing you've done in your career?

Help work toward solutions to tough problems

What or who inspired you to follow your career?

My dad

What was your favorite subject at school?

Chemistry

What did you want to be after you left school?

Pharmacist

Were you ever in trouble at school?

Yes

If you weren't doing this job, what would you choose instead?

Artist

Who is your favorite singer or band?

Mariah Carey

What's your favorite food?

Cheesy anything

What is the most fun thing you've done?

Snow Ski

If you had 3 wishes for yourself what would they be? - be honest!

1) My kids live happy and healthy lives, 2) Enough land and time everyone who wants can grow/raise their families own food, 3) To be kinder

Tell us a joke.

Someone stole my microsoft 365 software! I will find them, they have my word...
---
---
---
---