Profile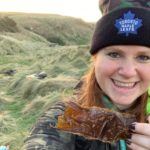 Samantha Sherman
About Me:

Hi, I'm Samm! I currently live in Vancouver, BC, Canada and moved here 2 years ago for work. I love travelling and SCUBA diving and have visited every continent! I also love going to the gym and power lifting heavy weights :).

My Work:

My work all has the common goal of conservation of sharks and rays. Right now, I am working on fisheries management and extinction risk of sharks and rays globally.

My Typical Day:

My days can all be very different. With COVID, all my work is at a computer currently. My typical day is: wake up, go to the gym, get on my computer and either read fisheries legislation from a country of interest, go over results a student has sent, write bits of papers, and do a little bit of coding to create pretty figures for papers.

Read more

Right now, my days are mainly spent at a computer or in Zoom meetings. When I did get to go into the field for my PhD pre-COVID, it was a lot different. A field day was usually waking up early, getting all the cameras together. I would have them in my room from downloading and transferring videos taken the day before, plus charging all the batteries. We would have a quick breakfast and then load all the equipment into our boat. We'd go through our checklist to make sure nothing was missing (gear, lunches, fuel, water, cameras, etc.). Then we turn on the GPS and head to the location we finished at the previous day.

This project involved setting cameras with bait in front of them so on the boat ride, we would start preparing the bait by mushing it and putting it in our bait bags. Once we got to our first site, we would tie ropes to our cameras, make sure they were filming and deploy them. One person would drop the camera and one would write down the data. We repeated this for 6 cameras and then waited until they had been down for an hour. Then we picked all the cameras up and got ready to put them back down with fresh bait. We repeated that another one or two times so we set 18 or 24 cameras in a single day (with a battery change or two in the middle) and then headed home. During our waits for the cameras we would go snorkelling, listen to music and chat, or have lunch.

Once back on land, all the equipment was rinsed off from the salt water and brought back to the shed we kept it in. I would go back to my room and start downloading and labelling the video footage. This often took hours. Once all the videos were downloaded, I made multiple copies on multiple hard drives to make sure we didn't lose anything. All the cameras and spare batteries were put on charge and we would have a quick dinner and discuss the plan for the next day.

What I'd do with the prize money:

I would donate the $500 to MISS Elasmo, an organization that provides programs, education, and workshops for minorities in shark science. They have accomplished so much in their 2 years of existing and are enabling so many BIPOC women, who otherwise would not have the opportunity, to have hands on experience in a field often thought of as a "boys club."

Work History

Education:

I did my undergraduate degree at the University of Guelph, just outside of Toronto, Ontario, Canada.

I did my masters and PhD at James Cook University in Townsville, Queensland, Australia.

I am now working as a post-doctoral research fellow at Simon Fraser University in Vancouver, British Columbia, Canada

Current Job:

Post-doctoral Research Fellow

Employer:

Simon Fraser University

TRAFFIC

My Interview

How would you describe yourself in 3 words?

outgoing, strong, passionate

What or who inspired you to follow your career?

Seeing my first shark when I was 5, been hooked (haha) ever since!

What was your favorite subject at school?

Maths

What did you want to be after you left school?

A shark researcher

Were you ever in trouble at school?

Was anyone not at some point?

If you weren't doing this job, what would you choose instead?

Veterinarian

Who is your favorite singer or band?

Jason Mraz, Backstreet Boys, Whitney Houston... I'm not a music snob, I listen to almost anything

What's your favorite food?

Popcorn

What is the most fun thing you've done?

Too hard to narrow down

If you had 3 wishes for yourself what would they be? - be honest!

A permanent academic job, unlimited research funding, as many dogs as I wanted

Tell us a joke.

What did the ocean say when it reached the shore? Nothing. It just waved.
---
---
---
---