Profile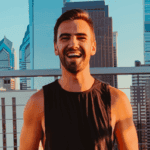 Christian Zera
About Me:

My name is Christian and I live with my wife and 3 dogs in Wayne, PA. On my free time I like to exercise and travel!

Read more

I went to college to get my degree in chemistry because I found it so interesting how things in our everyday lives work and that is the most exciting thing about science, you can find it everywhere!

I truly enjoy working out and often try to relate my scientific background to what I exercise, I also enjoy travelling across the world, making as many trips as possible in a year to experience everything I can. My favorite hobby is swimming and so I try to plan adventures to places with lots of water!

My Work:

I utilize special scientific instruments to determine the amount of certain elements in car parts. I work specifically with catalytic converters (big words for car parts) that convert toxic gases from an engine to gases that are not as toxic!

Read more

In my role, car companies come to my group and ask us to make car parts that fit the car they want to make. So we make the car parts and test them, but I specifically make powders that can relate what the car part should look like and what is actually being made. Then I put together a mixture of powders and metals, make a report with a lot of calculations and information and ship it off to countries around the world!

While I am not doing that, I am constantly learning about the scientific background of everything I do!

My Typical Day:

I wake up at 5:15am, get my coffee and bagel, and feed my dogs. Then I typically get to work around 6am where I get to go into the lab and check to make sure all of the computers and instruments are running and any experimental results are okay. Then I usually have a short meeting with my boss and get into the lab to make some powders! Before I know it, it's 12pm and its lunch time! After lunch, I typically catch up with the rest of my team and check any results from experiments and clean up. I end up leaving work around 3pm.

Read more

5:15 am – Wake up and eat breakfast with coffee

6 am – Arrive at work and turn off our baking ovens, back-up any information on our computers and instruments

7 am – Pull results for experiments that run over night and send to people's emails

8 am – Get into the lab with my notebook and start gathering my materials for creating my powder mixtures

9 am – Mix powders and listen to music!

12 pm – Lunch

1 pm – check my results from morning experiments and catch up with teammates

3 pm – go home and play with my dogs!

What I'd do with the prize money:

I would find a school in Philadelphia in which I can give this money back to a STEM program for underprivileged children so that they can hopefully experience the joys of sciences!

Read more

I think it would be great to host a science fair in Philadelphia, or even a small contest at a public school to engage students with STEM. I've never hosted/held a science fair but I would love to join an organization that creates/holds science fairs and would use the prize money for that purpose.

I also believe that if the science fair is not an option, even just donating the money to underprivileged public schools STEM programs would make a huge change in how the students can learn.

Work History

Education:

Upper Perkiomen High School, 2016.

Drexel University, 2021.

Villanova University, Present.

Work History:

Dish washer, 2012-2016

Camp Counselor, 2015-2016

Intern at Lannett Co, generic drug company, 2017

Undergraduate Researcher, 2018

Analytical Chemist, Colorcon Inc., 2019-2021

Current Job:

Employer:

Johnson Matthey, Analytical Services

My Interview

How would you describe yourself in 3 words?

Tall, Loud, Friendly

What or who inspired you to follow your career?

My wife, has always pushed me to be my best.

What was your favorite subject at school?

Chemistry and Nutrition

What did you want to be after you left school?

I wanted to be a Chemist!

Were you ever in trouble at school?

I was a kid, trouble is a part of the description

If you weren't doing this job, what would you choose instead?

I would choose to be a nutrition coach or travel advisor

What's your favorite food?

My favorite food is Chinese food, I love General Tso's Chicken

What is the most fun thing you've done?

I got to dive in Greece with a lot of amazing fish, in beautiful clear waters

Tell us a joke.

Did you hear the joke about the plane? No? Don't worry it would go right over your head.
---
---
---
---