Profile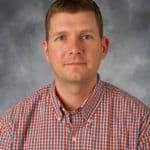 Scott Shaw
About Me:

I'm a Chemistry professor at the University of Iowa.  I am married, have two kids, and two dogs. We love playing ping-pong, foosball, and minecraft together. I'm also learning how to play the piano.  We live in the forest near a lake, so we go swimming a lot in the summer, drive our ATV through the trails, and go hunting for mushrooms.

Read more

I grew up on a farm in Illinois.  It was very rural and remote, but I loved it. We had cows, pigs, chickens, corn, beans, and what seemed like miles of space in every direction where I could run around and play.  I have an older sister and a younger brother there too, but not many neighbors…  I played baseball on a team in town, and otherwise worked a lot with my father and grandfather.

I wasn't always interested in school, but at the end of high school I agreed to try going to college for a year.   I chose to study chemistry because I thought I might learn something about fertilizers for our family farm.  I really enjoyed learning things and meeting people in college, so I went back for the second year, and third, and then I decided I might get my degree in chemistry and teach at the highschool in my home town.  That meant another two years of school (five total) which I did, and at the end of those five years my professors told me I should think about teaching college instead of high school, but that meant at least five more years of school at a different University.  I didn't know what to do.

I thought a lot about teaching at a high school or teaching at a college. I applied to a teaching job at my old high school, and I applied to some other Universities where I could get a Ph.D. degree and learn to be a college professor.   My old high school offered me a job teaching chemistry and shop class, and I also got accepted to the Universities where I could get my Ph.D.  I also learned that I could get paid while I went to school for my Ph.D., and make just as much money as I would being a high school teacher, so I chose to go to the University.   I still wonder about that decision today.   That was 20 years ago.

I got married around that time, and my Wife and I moved together to the school where I spent the next 5 years getting my Ph.D.  It was actually a lot of fun.  I worked in the chemistry lab a lot, but also joined a softball team and made a lot of friends.  When I finished my Ph.D., my Wife and I got to live in Europe for 16 months while I visited a few other universities to study more chemistry, and then we moved to Tucson Arizona for two more years to study even more chemistry.   Every place we went we met awesome people and had a lot of fun.  My daughter was born in Europe, and my so was born in Tucson.

Finally, ten years ago (2012) I was offered a job as a college professor at Iowa.  My Wife and I were happy with that because it was close to Illinois, where we both grew up.   I've been working here ever since, and we're all really happy!

My Work:

I teach students to use chemistry to make our world a better place. We work a lot on environmental chemistry (like reducing carbon dioxide in the atmosphere) and energy storage (like batteries).

Read more

A lot of my job is training scientists who will get Ph.D. degrees and work in research. We specialize in "analytical surface-science". Nearly all of our research is based on measurements of chemical interactions with surfaces, and most of our instrumentation is specifically designed to examine interfacial phenomena. If you've ever wondered why oil spreading on water looks like a rainbow, why you can only make sand castles with wet sand, or how Rain-X® keeps your windshield so clean, you might be interested in our work. We use precise measurements of chemical behaviors to create new, fundamental understanding of these types of questions to address important challenges in environmental remediation, materials development, and energy science.

Detailed descriptions of our research projects and some laboratory pictures can be found within this website.  If you have questions, feel free to send us an email or arrange a visit to our lab.

Research for All

The Shaw lab holds diversity, equity, and inclusion in high regard. We accept that scientific advancement suffers without full participation from all communities and we are proactively inclusive of all people regardless of ethnicity, immigration status, socioeconomic status, gender identity, sexual orientation, age, or ability. We acknowledge systemic issues of biases within the physical sciences for, and against, certain groups of people. To fight this, we work within our group to create an equitable, inviting, and enjoyable environment to do good science. Through formal training and informal interactions, we are all learning how to recognize and mitigate our own biases while advocating for each other. We hope our efforts in DEI will support the needed changes within our field.

My Typical Day:

I definitely don't have a 'regular' schedule, but I usually get up at 6:30 and help get my kids off to school by 8:00.  I spend from 8:00 to 4:30 in my chemistry office (teaching classes, meeting with other scientists, or writing about our results), then I pick up my kids on the way home.  I'll get supper with my family and we work together on homework or other activities.  At around 8:00 p.m. I start doing some more work from my home office until I go to bed.

Read more

One of the best parts of my job is that I don't do the same thing every day.  Some days are entirely teaching students, other days I meet with scientists from around the world working on the same problems as me.  We share our ideas and what we've learned, sometimes virtually or in person if we can travel.  Other days I spend in a quite place reading, researching, taking notes, and writing about what I or my students have learned so other people can use it. Some days I also just take a break, like today, so I can do something fun like interact with you all!

What I'd do with the prize money:

If I win the $500, I would use it to send my students back to their home-towns to talk about what they've learned.  I have found that going back home, to where people know you, and talking to them about things like climate change or vaccines or other controversial ideas, can really help them understand the science and facts.  This allows everyone to make better decisions based on good information, which is sooooo important!

Work History

Education:

High School:  Amboy High School, Amboy, Illinois

College:  Monmouth College, Monmouth, Illinois

Graduate School:  University of Illinois at Urbana Champaign

Post-doctoral training1:  University of Durham, United Kingdom

Post-doctoral training2: University of Liverpool, United Kingdom

Post-doctoral training3: University of Arizona, Tucson Arizona

Work History:

1990-1994:  worked as a farm-hand, baling hay, driving tractors, taking care of animals

1994-2003: worked in construction, driving heavy equipment, dump trucks, bulldozers

2000-2003: also worked as a teaching assistant in a chemistry laboratory at my College

2003-2008: worked as a research assistant in graduate school, laser spectroscopy, electrochemistry

2009-2010: worked as a visiting scientist and senior researcher in England/Europe, developing new ways to capture carbon dioxide

2010-2012: worked as a researcher in Tucson Arizona to better understand the chemistry of polymer surfaces

2012-present:  working as a professor of chemistry at the University of Iowa

Current Job:

2012-present:  working as a professor of chemistry at the University of Iowa

My Interview

How would you describe yourself in 3 words?

curious, talkative, adventurous

What's the best thing you've done in your career?

lived in a different country

What or who inspired you to follow your career?

My parents

What was your favorite subject at school?

Shop classes, wood working, welding, wiring,

What did you want to be after you left school?

In high school I wanted to be a farmer

Were you ever in trouble at school?

Yes

If you weren't doing this job, what would you choose instead?

I might be a psychologist, so I could understand how people think

Who is your favorite singer or band?

top three: Cake, Tom Petty, and AC/DC

What's your favorite food?

Good Barbeque

What is the most fun thing you've done?

Teaching people something I know

If you had 3 wishes for yourself what would they be? - be honest!

1: that I was better at math 2: that I could find time to learn Spanish 3: that I could be more persuasive

Tell us a joke.

What kind of vegetable never bowls a strike? A'spare'agus!
---
---
---
---